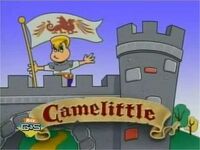 A medieval-themed area where knights, princesses and dragons roamed and fantasy became alive. It's title is a play and spoof of the mythological castle Camelot.
Sub-Areas
[
]
Dungeon of Doom
Enchanted Forest
Title Card
[
]
The title card depicts a blonde-haired Mikey (clad in a medieval attire) standing on a castle holding a flag and a banner reading "Camelittle" across the castle.
Board Backdrop
[
]
The backdrop of the game board is a treasure map paper.
Gallery
[
]