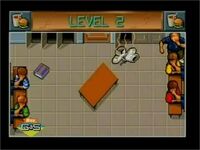 Food Frenzy was a game level set inside a school.
Story
[
]
The player was in a school cafeteria, which was in the middle of a massive food fight.
Goal
[
]
In the cafeteria, players had to pick up three multi-colored textbooks lying on the floor to go on to the Wizard Level.
Enemies
[
]
Teacher
Students
Flying Foods
Advantage
[
]
One of the lockers contained smelly sneakers; opening this up stopped the action for five seconds.
Screenshots
[
]