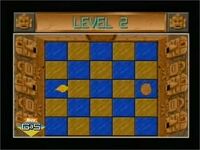 Mind Maze was one of many game levels with coins.
Story
[
]
The player was trapped in a Mayan room gauntlet with a checkerboard floor and many weapons coming at him/her from all sides.
Goal
[
]
Players had to collect three gold coins to go on to the Wizard Level.
Enemies
[
]
Fireballs
Spears
Electrified Squares
Advantage
[
]
The player could touch the "Power Square" when it came up to be temporarily granted immunity against all damage.
Screenshots
[
]