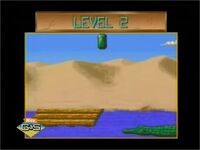 Nile River Raft was one of the side scrolling game levels.
Story
[
]
The player rode down the Nile River on a raft.
Goal
[
]
Players had to grab three emerald gems to go on to the Wizard Level.
Enemies
[
]
Vultures
Flies
Alligators
Rats
Mummy
Advantage
[
]
The player could touch the "Eye of the Pharaoh" diamond to regain full power.
Screenshots
[
]