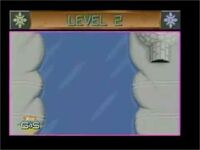 Snow Slingers was one of the season two game levels.
Story
[
]
The player would be in a winter wonderland and in the middle of a snowball fight with several elves.
Goal
[
]
Players had to hit three annoying elves by throwing snowballs at them to go on to the Wizard Level.
Enemies
[
]
Elves' Snowballs
Ice-Skating Polar Bear
Skiing Foxes
Advantage
[
]
The player could hit a magical snowman to make him play his fiddle and hypnotize the elves, who then stopped attacking to dance to the music for five seconds.
Screenshots
[
]